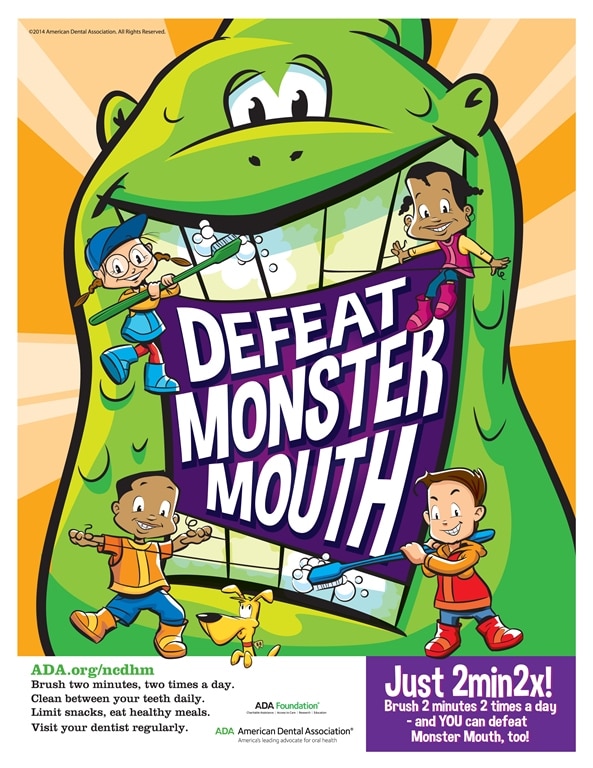 It's National Children's Dental Health Month.
Each February, The American Dental Association sponsors NCDHM to raise awareness of the importance of good oral hygiene. The campaign slogan changes from year to year, but always targets teen and preteen generations. This year's slogan is "Defeat Monster Mouth."
But just what is Monster Mouth, you ask?
Patients develop Monster Mouth when they fail to brush their teeth properly, floss and maintain a healthy diet. These poor habits lead to decay-causing plaque buildup – a monster the ADA refers to as Plaqster in this year's campaign.
Luckily, Monster Mouth and Plaqster can be defeated by following these simple steps:
Stop feeding him! Plaqster thrives on sugary sweets, so instead of reaching for candy, reach for fruits or vegetables.
Flossing removes plaque in tight spaces where toothbrush bristles can't reach.
Use a mouth rinse. Mouth rinse kills bacteria in the entire mouth, not just on the teeth.
Have regular checkup and cleanings by your general dentist.
An orthodontist can fix or reverse many problems when diagnosed early.
Fluoride treatments. Fluoride treatments are safe and strengthen enamel against the negative effects of plaque.
These steps are especially important during orthodontic treatment. Our orthodontic patients may also find the following tools helpful when navigating their appliances.
Proxy brush- a small dental brush that can navigate intricate orthodontic appliances.
Floss threader- a tool that allows you to thread floss into small places around teeth and braces.
Waterpik- a tool that creates a narrow stream of pressurized water, which can be used to clear debris from between teeth and around braces.
February is a great time to get your child excited about defeating Monster Mouth by starting a healthy oral hygiene routine, but it's important to maintain that enthusiasm throughout the year to say Goodbye to Monster Mouth!
Educational materials offered by the ADA http://www.ada.org/en/public-programs/