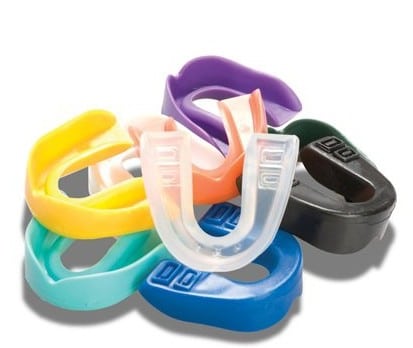 Calling all MVPs, team captains, team players, practice squads, coaches, teachers and parents/caregivers; An estimated 12 million people between the ages of 5 and 22 years suffer a sport-related injury annually, which leads to 20 million lost days of school and approximately $33 billion in healthcare costs. Yet, some of these injuries could be prevented with protective gear. April is National Facial Protection Month so let us remind you that playing it safe is important during recreational and organized sports to help prevent serious facial injuries that can take the fun out of the game.
Alright! Take five and take these five simple safety tips.
1. Mouthguards
Mouthguards can help prevent an injury to a person's jaw, mouth and teeth.
2. Helmets
Helmets absorb the energy of an impact and help prevent damage to the head.
3. Protective Eyewear
Eyes are extremely vulnerable to damage, especially when playing sports.
4. Face Shields
Hockey pucks, footballs and racquetballs can cause severe facial damage at any age.
5. Support for Mandatory Protective Gear
Athletes who participate in football, hockey and boxing are required to wear a mouthguard. If mouthguards have proven to decrease the risk of oral injuries significantly, then why is it not mandatory in every sport for players to wear them?
The American Dental Association (ADA), American Association of Orthodontists (AAO), American Academy of Pediatric Dentistry (AAPD), Academy for Sports Dentistry (ASD), American Association of Oral and Maxillofacial Surgeons (AAOMS) are collaborating to promote the 2015 "April is National Facial Protection Month" to help you learn more about how simple it can be to play for better safety that will protect not only your mouth and face, but also your peace of mind.